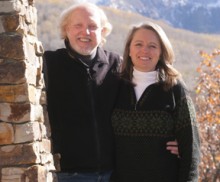 GERALD ROSS, ARCHITECTS.
Telluride Office : 970-708-1392
Email : gr@telluridearchitect.com
Aspen Office : 970-925-1157
Email : gr@aspenarchitect.com
114 ALDASORO RD.
TELLURIDE, COLORADO
81435
 
Gerald Ross has been a registered architect in Colorado since 1994.  He is a native of Eugene, Oregon and alumni of the University of Oregon.  Moving to New York City in 1983, he practiced architecture with many notable architectural firms for ten years.  Most notable is FAIA Edgar Tafel, Frank Lloyd Wright's right hand man for nine years.  Concluding the NYC experience with Ehrenkrantz & Eckstut Architects on the "Circle Center" project in Indianapolis, Indiana, See the link below:
https://www.google.com/search?q=circle+center+images&tbm=isch&tbo=u&source=univ&sa=X&ei=PRtgUteKLOLCyQGuuoDoAw&ved=0CCwQsAQ&biw=787&bih=823
Gerald moved to Telluride, Colorado in 1993.  While practicing architecture in Telluride, GR Design Group, Architects has completed many projects for a US Cabinet Member, celebrities and financial officers.    Since the opening of the new Aspen office, project designs have been completed in Aspen, Snowmass Village, Starwood and Brush Creek.

" I have formed a team of professionals that subscribe to ethical and honest practices to give our clients a beautiful home without any inflated cost earmarks.  My team, which includes a structural engineer, surveyor, contractor, craftsmen and a professional interior designer, are known not only for their highest quality work but also for their honesty and integrity.  I can offer you excellent quality architectural design that is tested and trusted at a fair, affordable fee."

Let's work together designing your home and let it be a satisfying experience for all…
Gerald Ross.