PANDORA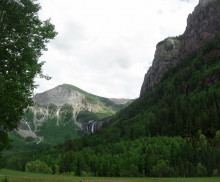 See Pandora Concept Drawings
Contact the architect
Pandora 9 has great views of Ingram Falls, Bridal Veil Falls, Ajax Peak and the rock formations on the north and south sides of the box canyon.  Due to the steep proximity of these views, I have utilized a shed roof on the south that permits a higher roof at the interior peaks of the Living Room and the Master Bed Room.  This will allow the owners to get every inch of view possible.
The porte-cochere is required as a means to bring guests to the front door and acts as a viewing platform, while progressing to the entry.  It is angled to facilitate snow fall from the roofs and evokes an elegant tree lined separation from the house structure.
The materials are Telluride stone, laid in a dry stack fashion, recycled wood timbers and trusses from the Great Salt Lake, recycled barn wood, wood railings, metal clad windows and doors and a rusty corrugated metal roof.
I have synthesized the driveway, entry and Great Room view points to take advantage of all the property attributes.  Royer Creek is a natural source of year round running water and is a delight to hear from all rooms.  A bridge has been designed to take advantage of the remaining property to the west of the creek.