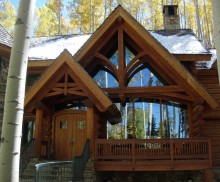 108 Hang Glider, Mountain Village, Telluride, CO – Gerald Ross, Architects
Gothic Log Style Home
Mountain Village, Telluride, Colorado
108 Hang Glider Drive – Generally speaking, there are not many Gothic Log Style homes in the Colorado Mountains.  Thus the client loves this unique style of architecture.  Even though this home is log, it is bright and very light inside with a balance of textured walls and large window glazing.  In other words, this is a rare type of architecture for a log with details of timber framing.  It is more contemporary than most mountain log homes.  To be exact, the timbers were old growth, standing dead trees harvested from Canada.  Therefore, this type of wood from the north, has an uncommon, tight grained character.  This is due to the long, severe winter seasons.
Without a doubt, the stone tower made with local Telluride Gold Stone adds a sense of strength and stability.  To emphasize, the entrance has an uncommon design of curved Gothic trusses.  Of course this accentuates a welcoming entry along with a terraced staircase.
As can be seen, the living room is very comfortable and intimate with a stone gas fireplace. What's more, the TV room was done separately to set it apart from other rooms. Equally important, the dining room is within the tower giving it 180 degree views.  Additionally, cherry wood flooring and Indian Stone Slate flooring were some of the quality materials used in this design.  Without a doubt, the kitchen is substantial in size with high end finishes for the avid cook.
108 Hang Glider is a comfortable 3,800 square feet with 4 bedrooms and 4 1/2 baths. What's more, the lot is largely wooded with custom landscaping to contribute to a mountain atmosphere.  Moreover the view of the mountains are fantastic because of the attention given to the addition of spacious windows.