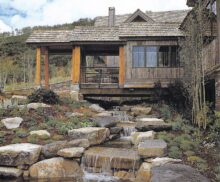 110 Bernardo, Aldasoro, Telluride, CO – Gerald Ross, Architects
Mountain Contemporary Home
Aldasoro, Telluride, Colorado
110 Bernardo Drive – As shown below, this home featured in Mountain Living Magazine is a real showpiece.  After all, it was designed for the mountain views as the priority along with a comfortable contemporary feel.  One of the 1st of its kind in Telluride, Gerald Ross, incorporated recycled Doug Fir trusses from a Utah railroad trestle.  Included was steel from the Industrial Age to make a bold statement.  Furthermore, Gerald fondly calls the architecture "Mount-Industrial."
To emphasize the entry axis, it contains a picture perfect view of Mount Emma.  In detail glass walls overlook the water feature that flows under the entrance.  Also the cherry flooring and Doug Fir ceilings provide warmth and a relaxing atmosphere throughout the home.  For this purpose, an open floor plan allows easy access and excitement to the complex design.  As a result, this mountain contemporary design is a departure point from the rustic homes normally constructed in the region.  Notably the architecture is still timeless today.
Another key point, is the contemporary kitchen and bar with a significant accent steel canopy.  The dining room is part of the open floor plan.  Noticeably the staircase makes a statement with steel channels, rope lighting and cherry treads.  Markedly the master bedroom with private bath maintains solitude and serenity.  In addition, there is a guest suite bedroom with bath, 3 additional bedrooms with bath, TV room, a secluded 1/2 bath and office.
In fact, Mountain Living Magazine, "The Best of the High Country,"only comes out once a year over the Christmas holidays.  Importantly this magazine highlights 2 projects.  For this reason, Gerald Ross, Architects were honored to have 110 Bernardo featured.  To sum up, this is a unique piece of architecture.
110 Bernardo Drive Sketch Plan Design