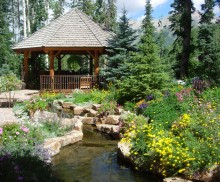 113 Highlands Way, Mtn. Village, Telluride, CO- Gerald Ross, Architects
Water Feature & Landscaping
Mountain Village, Telluride, Colorado
Wall Street Journal video and interview
Boberg Letter of Recommendation
113 Highlands Way – Equally important to the home, the owners use the custom landscaped grounds for entertaining and relaxation.  They especially enjoy the privacy and tranquil peacefulness provided by the variety of flowers, trees and custom water feature.   At the time, this was the most extensive water feature design in the Telluride area.  What's more, there is a 15 foot high waterfall for that pleasant sound of nature.  Also the water feature runs along side the dwelling, landscaping and Gazebo.
Without a doubt, a casual walk around the outside edges of the residence is a visual treat.   Throughout the summer, there are blooming flowers along a serpentine stone path. In fact, there is an architectural designed custom gazebo with bar and hot tub.  This garden also contains an exclusive jade sculpture.  Among the landscaping, are extensive staircases and staircase landings with decorative statues.  Furthermore, there is a putting green for those devoted golfers.  Finally, a Labyrinth for deep meditation and closely modeled after a 15th Century Chartres France Labyrinth.
Gerald Ross, Architects has designed many water features in the Mountain Village and was the first to introduce the concept in 1997.
113 Highlands Way Sketch Plan Design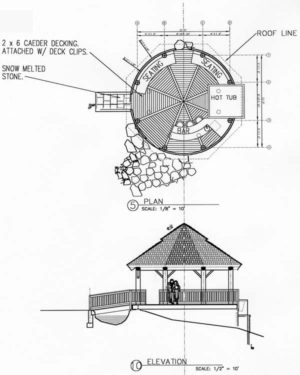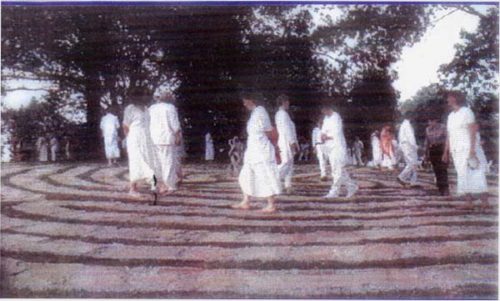 15thCentury French Labyrinth used as a model.