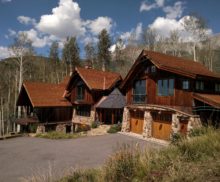 114 Aldasoro Blvd., Aldasoro, Telluride, CO- Gerald Ross, Architects
Mountain Contemporary Home
Aldasoro, Telluride, Colorado
114 Aldasoro Blvd. – Remarkably in 1997 Gerald Ross Architects created a style he calls "Mount-Dustrial."  Surely a unique style from the Industrial Revolutionary Period.  This design combines mountain materials and steel forms.  For this reason, the result is a strong and athletic feel that opens views in a warm, human scale.  Important to note, this featured home is another example of the steel and wood construction.  However, it is exclusive in style based on views, location and client preferences.  Additionally "110 Bernardo Drive" & "206 Russell Drive" are other unique styles of this architecture.
This design was created with attention to views of Wilson Peak and Sunshine Mountain. Also the home is framed by mature aspen and pine trees.  When you approach the open air breezeway, views of the San Sophia Mountain Range become possible.  Gerald designed a custom built cherry front door to emphasize interest, importance, security and privacy.  Upon entering the home, black slate and cherry floors direct you toward views of the aspen trees.  Ultimately giving you the impression of being in a tree house.
Importantly the support trusses are made from old recycled, Doug Fir railroad trestles.  In detail, these trusses were combined with steel to enhance the mountain views.  In this case, the open floor plan is a contemporary design.  Significantly the mahogany deck just off the great room is a favorite for afternoon entertaining.  Furthermore the entire 3rd floor contains the master bedroom and bathroom.
In addition, there is a caretaker/rental unit above the 3 car garage.  It has it's own entrance for privacy.  What's more the views are also grand from this location.  This unit contains a 1 bedroom with living room, kitchen, bathroom and large loft.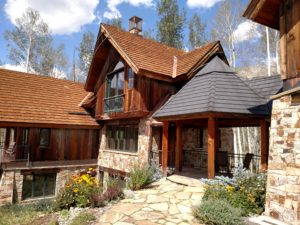 Interior under construction
See "110 Bernardo Drive" ….
See "206 Russell Drive"….