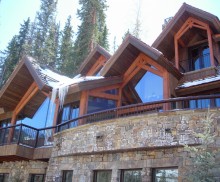 13 Stonegate Drive, Mtn. Village, Telluride, CO- Gerald Ross, Architects
Contemporary Timber Frame
Mountain Village, Telluride, Colorado
13 Stonegate Drive – First and foremost, this mountain home makes an artistic statement. For example the living room wood trusses are cleverly designed and are structurally supportive.  Skillfully set this dining room overlooks the living room and shares the impressive views.  Moreover this Contemporary Mountain Style has 5 bedrooms and 5 1/2 baths. The upper level is exclusively the master suite with a master bathroom.  For this reason, it is totally secluded from the rest of the home.
Also a plus, this is a ski-in and ski-out residence in Mountain Village, Telluride, Colorado. To be exact, the home is right off the Sundance ski run allowing easy access for great powder days.  Meanwhile the alpenglow is just as majestic from the front deck and every room in the home.   At the same time, sunlight through extensive windows is a must for passive solar gain and mountain views.
The steep site was a challenge, however, Gerald Ross enjoys the test of designing for such a property.  In fact, Gerald was the design architect for Edgar Tafel (FAIA).  Edgar worked for Frank Lloyd Wright as his apprentice.  Edgar was the project architect for Falling Water, Johnson Wax building, Wingspread, to name a few.  Furthermore, Edgar was a great teacher when it came to site limitations.  Ultimately, Gerald had 10 years of architectural experience in New York City.  This included 3 years with Edgar Tafel.  He also worked for Ehrenkrantz & Eckstut Architects as part of the design team for the Circle Center Mall, downtown Indianapolis, Indiana.  In fact Gerald also worked on the technical upgrade of the New York Stock Exchange back in 1983.
 Featured in Aspen Sojourner Magazine: