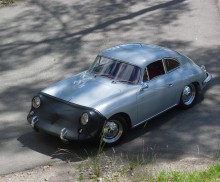 356B Porsche
 1960
As a matter of fact, I have owned this Porsche since 1974.  I actually paid $1,650.00 dollars.  This seemed like a lot of money back then.
Over the years, it has been restored and updated to include new paint, interior, electrical and mechanical systems.  Most of all, I did the work myself outside of painting and engine rebuild tasks.  It has been driven up to Glacier National Park in Canada, Seattle, Eugene,  Santa Fe, San Francisco and who knows where next?  This four cylinder, hand built car is a pleasure to drive and always brings a crowd when stopping for fuel.  The most enjoyable comment being…… "What year is your Volkswagen????"
Furthermore my wife and I went to the Porsche Plant in Stuttgart-Zuffenhausen, Germany in 1997 to tour the assembly plant.  This is where my Porsche was built.  In fact, Manfred Ayasse, Financial Press Officer at Porsche, took us on a private tour of the plant. The car was built on the same line as the current water cooled 911 model.  I encourage everyone to visit the plant and the museum if you are in the area!