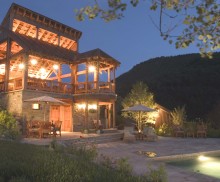 Fishing Club Pavilion, Norwood, CO – Gerald Ross, Architects
Fishing Club Pavilion 
Norwood, Colorado
Cascabel Fishing Club owns 3 1/2 miles of gold medal fishing on the San Miguel River in San Miguel County near Norwood. Robert Sinclair, the owner of Castleton Energy Corp, hired Gerald Ross Architects to design the pavilion.  In short, he needed a multiple faceted facility for entertaining that provides relief from the high altitude desert sun.  Furthermore it can easily accommodate 30 guests.  In fact, the project grew to include a swimming pool, Jacuzzi, changing rooms, bathrooms and massage room.
Above all the structure was designed with an open air concept using timber post and beams, steel rods and connections.  This was designed to encourage the flow of air currents for cooling.  Additionally a wood burning fireplace and food preparation areas on each side are on the upper level.  Namely evening dining, parties, and weddings take place on this level.  The upper level overlooks the pool, lake and the river providing a scenic day and night time experience.
The main feature of this ranch compound is the gold medal fishing access to the San Miguel River.  Uniquely the 3 1/2 miles of the river are privately owned by Cascabel.  In addition, nearby ponds are stocked with local fish.  This exclusive property also contains three houses along with three guest cabins and support structures.  Also the area is perfectly secluded surrounded by state preserves.  Yet it's within a 40 minute drive to Telluride for skiing, golfing and fine dining restaurants.
In addition Bloomberg News Network and the Bloomberg Online Newspaper just recently had an article about Cascabel.  As well as the Bloomberg Asia Edition recently featured Cascabel Fishing Club.
Nighttime View